Jun
6
Mon
XXIVth ISPRS Congress

@ Nice, France
Jun 6 @ 9:00 am – Jun 11 @ 5:00 pm
The International Society for Photogrammetry and Remote Sensing (ISPRS) will hold its 2022 congress in Nice, France, in June 2022. The event will be hosted by the French Society for Photogrammetry and Remote Sensing.
A wide-ranging program has been put together, and it includes a host of leading speakers, such as Australia's Professor Sisi Zlatanova from the University of South Wales. More than 1500 papers will be presented in the various scientific tracks and sessions over the week. In addition to these presentations, participants will also have the chance to interact and network face-to-face with the authors in poster sessions.
In order to help the registered participants to choose the sessions and the presentations to build their own program during the week, pre-recorded video presentations of the papers will made accessible before the beginning of the event through the digital platform of this event.
The Congress will have a strong technology track, with a large exhibition space that will gather the major players of the geospatial business. A geospatial prospective forum will also address hot topics of our community in order to draw recommendations.
The deadline for both full papers and abstracts is January 10, 2022.
Aug
22
Mon
Advancing Earth Observation Forum 2022

@ Brisbane Convention & Exhibition Centre
Aug 22 @ 9:00 am – Aug 25 @ 5:00 pm
Advancing Earth Observation Forum 2022 will be a face-to-face, fully interactive forum. It will host user, industry, government, research and technical focused plenaries and interactive panels, poster and workshop sessions to interest and engage end-users, industry, researchers, government, analysts, start-up companies, educators and students.
Oct
2
Sun
Ocean Optics XXV

@ Quy Nhon, Binh Dinh, Vietnam
Oct 2 @ 9:00 am – Oct 7 @ 4:30 pm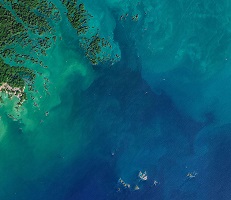 The Ocean Optics Conference attracts a diverse audience of active practitioners in the field, including oceanographers, marine ecologists, limnologists, optical engineers, marine resource managers and policy professionals from around the world.
Conference presentations will include the science of optics across all aquatic environments, research, and applications, including (but not limited to) biogeochemistry, environmental management and applications, instruments, techniques and observational systems, remote sensing, phytoplankton ecology, radiative transfer and optical theory, global change, and benthic processes.
Attendees will attend plenary presentations during the day and interact with colleagues during scientific poster session receptions held in the exhibit/poster hall in the early evening. In addition to invited and contributed oral and poster presentations, the conference will provide the opportunity for community-wide discussions.
NASA Earth Observatory image by Joshua Stevens, using Landsat data from the U.S. Geological Survey.